March 8, 2016 2:12 am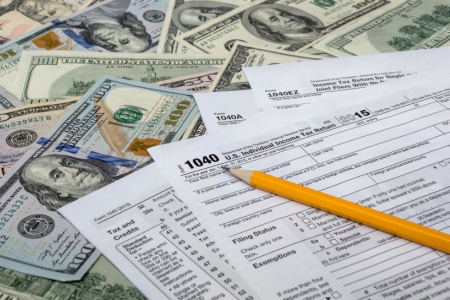 Each year, millions of taxpayers over-pay by overlooking credits and missing deductions. Don't let a knowledge gap prohibit you from receiving the maximum refund!
"Major life changes affect the eligibility for specific credits and deductions," says Mark Steber, chief tax officer of Jackson Hewitt®. "Without help, it's easy to miss them."
The most overlooked credits and deductions, based on life stage, are:
Students
The American Opportunity Deduction and Lifetime Learning Credits are worth up to $2,500 and are available for students attending a qualified college or trade school, based on enrollment status, tuition and fees paid, adjusted gross income and filing status.
Single Parents
Filing as 'Head of Household' offers a higher standard deduction and a lower tax rate than filing 'Single.' This is available for single or unmarried taxpayers who pay for more than half of the cost of maintaining a home and have a qualifying dependent.
Newlyweds
Couples who were married last year can file a joint return, which is generally more advantageous. Those who were married at a place of worship or historical site may be able to donate an offering and claim it as a charitable contribution. Brides may even write off the fair market value of their wedding gown if they donate it.
Homeowners
Don't wait until mortgage interest and real estate taxes are bigger than the standard deduction to itemize deductions. These items, and more, can be itemized: energy-saving upgrades (like energy-efficient windows or insulation) could be eligible for a tax credit up to $500, and tax preparation fees may be deductable on Schedule A.
Families
Families may miss a host of credits, including the Child Tax Credit (a credit of up to $1,000 per child under the age of 17); the Earned Income Tax Credit (one of the largest federal tax credits, worth up to $6,242 based on income and number of dependents); and the Child and Dependent Care Credit (a credit of up to $2,100 to assist with the cost of daycare for dependents [children under 13 and elderly family members requiring care] while an individual works).
Pre-Retirees
Don't miss the Saver's Credit of up to $1,000 per person for contributing to a pension plan or 401(k). Many people contribute to these accounts, but then forget to claim this credit. People who turned 65 by the end of the tax year are also entitled to a higher standard deduction; however, they should still review expenses during the tax year to determine if itemizing deductions would be more beneficial than taking the standard deduction.
Source: Jackson Hewitt®
Published with permission from RISMedia.